Welcome to FLAG STEP (Short Term Exchange Program)
STEP is for international exchange students, 13 to 19 years of age, who live with a host family for an average of four weeks during the school year or summer. STEP is ideal for students who want to experience (or try on) the excitement of exchange before committing to a year-long academic program.
Experience the American Way of Life!
Executed with the same standard of excellence as the FLAGship program, FLAG STEP is a highly customizable program that can make almost any international student's dream of experiencing "the American way of life" a reality!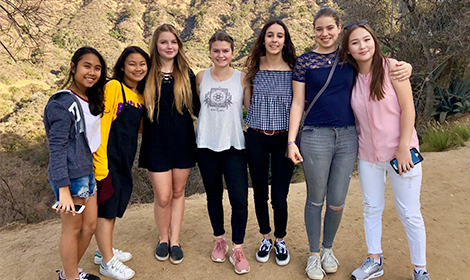 What Is The
FLAG
STEP
Program?
There are several ways a student can join the FLAG STEP program and visit the United States. Each program option is based on a format of customizability where International Partners and their clients build their own program by adding features and activities to a basic home-stay program. Students, their family, and the International Partner choosing activities and features from a menu of possibilities as outlined in FLAG promotional materials.
The FLAG STEP program starts as a basic homestay package, where students live with a volunteer host family for 2-4 weeks. From there, International Partners and students can customize their ideal STEP package for an additional cost, by selecting features and activities from FLAG promotional materials, including extending the homestay up to 6 weeks.
Activities vary by location and time of year but could include visits to museums, kayaking, pool parties, sporting events, ice skating, and more! In addition to local activities, one excursion will be added to each package that includes the Activities Package. These excursions could include day trips to nearby cities or amusement parks.
In addition to the basic homestay package, students also have the option of adding school observations and activities at a local U.S. high school or career observations based on individual interest.
The program does require a minimum enrollment of 5 students per International Partner, unless a group has already been formed; in which case, individual enrollments are welcome.
Do You Work with an International Partner or Directly with FLAG?
A student's first point of contact will be their local International Partner. If their local partner isn't sending any groups to the U.S., or if a student doesn't live in an area where FLAG has an International Partner, FLAG will work directly with the student and family to build a program. Please contact us directly to see how we can customize a trip for you!
Ready to Customize A Trip?